To Grow the D:\ Drive
This is part 2 of the "Adding space to a vDisk on a PERC 5/i Controller" post.
Back to Part 1
Launch diskpart from the command prompt.  #diskpart (enter)
It opens in another window.  Enter  #LIST DISK (enter) and review the disks of the server.
Enter #LIST VOLUME   (enter) to view the volumes. Note the volume numbers next to the drive letter.  You will select the volume that you would like to grow.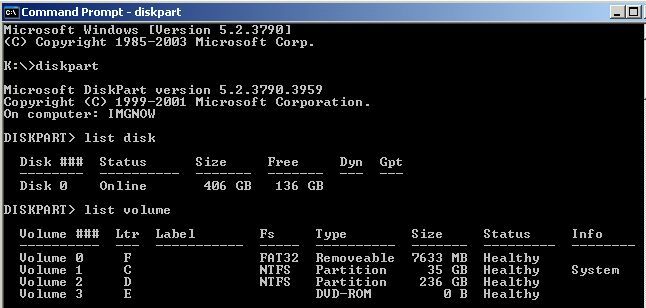 #LIST PARTITION (to view the partitions)

Enter #SELECT DISK # (the number of the volume you're growing). This is to bring focus on the disk that you're working with. OR
Enter #SELECT VOLUME 2 (the D:\  is what we're growing so we will have enough space to 'give' to C:\)
Decide on the size that you'd like to grow the disk by (in MB). In this example, we grew the disk by 100GB. Enter #EXTEND SIZE=100000 (100GB~)
You'll see the success message immediately  following.
Enter #LIST VOLUME (to review the size of the new volume.  It will have an asterisk beside it)

Enter #LIST DISK to view the available space on the vDisk.

Enter #EXIT to close diskpart.
Go back to disk management and view the size change of D:\ and the unallocated space.

Next Step: Growing the C:\ Drive